By bkirk23 at © 2009 photobucket inc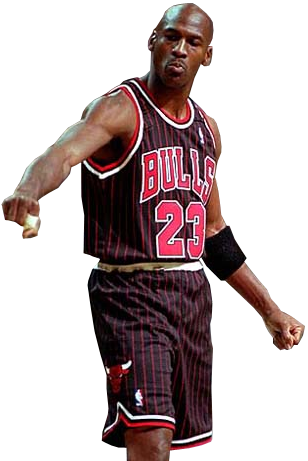 By acclamation, Michael Jordan is the greatest basketball player of all time."
—Introductory line of Jordan's NBA Encyclopedia biography.
Full name, Michael Jeffrey Jordan; born February 17, 1963, in Brooklyn, NY; son of James (an equipment supervisor) and Deloris (in banking; maiden name, Peoples) Jordan; married Juanita Vanoy, September 2, 1989; children: Jeffrey Michael, Marcus James, Jasmine Mickael. Addresses: Office: Washington Wizards, MCI Center, 601 F St. NW, Washington, DC 20004.; Agent: David Falk, Falk Associates Management Enterprises, 5335 Wisconsin Ave. NW, Washington, DC20015-2030.
Nationality - American
Gender - Male
Occupation - Professional basketball player, actor
(Copyright © 2009 - NetIndustries, LLC)

Jordan won numerous awards and set many records during his career. The following are some of his achievements:

2 Olympic Gold Medals – 1984, 1992
6-time NBA Champion
6-time NBA Finals MVP
5-time NBA MVP
7-time The Sporting News MVP
10 NBA Scoring Titles
14 NBA All-Star Selections
3-time NBA All-Star Game MVP
11 All-NBA Selections
9 All-Defensive Selections
2-time NBA Slam Dunk Contest Champion – 1987, 1988
NBA Rookie of the Year – 1984
NBA Defensive Player of the Year – 1988
ACC Freshman of the Year – 1982
ACC Men's Basketball Player of the Year – 1984
USBWA College Player of the Year – 1984
Naismith College Player of the Year – 1984
John R. Wooden Award – 1984
Adolph Rupp Trophy – 1984
Sports Illustrated Sportsman of the Year – 1991
Named one of the 50 Greatest Players in NBA History in 1996
Ranked #1 by SLAM Magazine's Top 50 Players of All-Time
Ranked #1 by ESPN Sportscentury's Top 100 Athletes of the 20th century
(From Wikipedia, the free encyclopedia)



92/93 Upper Deck All-NBA Michael Jordan
By Glenn3186 at © 2009 photobucket inc



There is more than pure entertainment, though, that can be taken from the experience that is Michael Jordan, the aerobatic basketball player, who seems to come through regardless of the defense, the pressure, a high ceiling or low, the head winds, air pockets or, as against the Pistons, when the atmosphere is as dense as soup.
Yet with just his pure, colossal physical ability, Michael Jordan still wasn't a member of an N.B.A. championship team. It took him seven years to get the title ring, which he won on Wednesday, June 12, 1991 when the Bulls beat the Lakers, 108-101, to take the final playoff series, four games to one.



By twyztur1978 at © 2009 photobucket inc
"It's been a struggle, a long, long seven years," Jordan said. "When I came, it was a sad situation. We started from scratch, the bottom. A lot of bad teams. A lot of improvement. Step by step, inch by inch."
The day before Game 5, someone asked him if he was anxious for the title. "I'm patient," he said. He didn't add that he had learned patience for seven years.
There was frustration early on, and toil. But along with that there was also the education of Michael Jordan that had to be enhanced. He discovered the trick that Magic Johnson had discovered, and Larry Bird, and Isiah Thomas, all contemporaries and stars of teams with multiple titles. "You can't do it by yourself," Jordan said. In the final minutes of the final game, for example, Jordan looked for the open man, who happened to be Paxson, Paxson, Paxson, Paxson and Paxson, and hit that deft jump shooter with what might be known as very good paxes.
Jordan has also found that there was more to basketball than just offense (though with practice in the pros he became an excellent outside shooter rather than just a fair one). He has developed into one of the best defensive players in the game. Defense takes heart and will. "Most of the people sitting up in the stands won't appreciate your effort on defense," Honey Russell, the late coach of Seton Hall, said, "but your teammates and coach will, and the opposing team."
Many times, the star offensive player does not want to exert himself on defense, so to be fresh for the crowd-pleasing shooting. Not Jordan. He defended against Magic Johnson, and took him for much of the games, and for much of the 94-foot court. Jordan committed five fouls doing this in Game 1 of the series, but wised up and was more careful, though no less dogged, in the following games. This was leadership, demonstrating to the other players his sublimation of ego for the perceived goal.
Beyond that, his nose-diving, looping, taxiing on defense to flick at a ball, or deflect a pass, or interrupt a dribble, or box out for rebounds, things that never are seen in a box score, were observed and often duplicated by teammates.
It was also instructive how he played one-on-one defense, as much with his feet and his head as with his hands. "When I was young," he said, "I had to learn the fundamentals of basketball. You can have all the physical ability in the world, but you still have to know the fundamentals."
(From Sports of The Times; Air Jordan And Just Plain FolksBy IRA BERKOW, Published: Saturday, June 15, 1991 Copyright 2009 The New York Times Company)



By jamesb69 at © 2009 photobucket inc
By Henry2Tate at © 2009 photobucket inc
By livieroo86 at © 2009 photobucket inc
By gchamorro at © 2009 photobucket inc
By _06dany at © 2009 photobucket inc
His soaring dunks, Nike commercials and "Air Jordan" nickname helped stamp him as one the most recognizable athletes around the world. He finished a 15-year career with the Chicago Bulls and Washington Wizards with 32,292 points -- the third-highest total in league history, behind Kareem Abdul-Jabbar and Karl Malone. His final career average of 30.12 goes down as the best, just ahead of Wilt Chamberlain's 30.07.
Jordan was a five-time NBA MVP, won six championships with the Bulls and another in college with North Carolina.
Jordan retired twice during his career. He first came back to the Bulls in 1994 and won three more championships before retiring again in 1998, then had an ill-fated two-year stint with the Washington Wizards before calling it quits for good in 2003. He's now managing partner of the Charlotte Bobcats.
(Copyright 2009 by The Associated Press ©2009 ESPN Internet Ventures)
With Michael Jordan's election to the Hall of Fame, April 6, 2009, here are Scoop Jackson 10 favorite MJ moments:
10. April 17, 1986. Game 1 of the first round of the playoffs versus the Boston Celtics. The game before the famous 63-point game. Scored 49 points in one of the greatest displays of shot-making ever seen. Actually a better performance than the 63-point game.
9. Oct. 26, 1984. His first pro game, versus the Washington Bullets. Scored only 16 points, but tried to do a baseline dunk on Jeff Ruland and Rick Mahorn that let everyone know what the future was to be like.
8. March 28, 1990. The 69-point game versus Cleveland. Only two dunks. Prelude to Phase 2: his jump shot. Also had 18 rebounds and six assists.
7. March 18, 1995. First game at Madison Square Garden after returning from retirement. "The double-nickel game." Two games later, on March 25, 1995, he hit the winner at the buzzer against Atlanta. Then slapped the floor at midcourt. He's baaacccckkkk.
6. Feb. 7, 1988. NBA All-Star Game in Chicago. Forty points. MVP. Won the dunk contest over Dominique Wilkins the day before. The introduction of Jordan 3, his first true signature shoe. Greatest individual weekend for any athlete.
5. June 12, 1996. Game 4 of the NBA Finals versus Seattle Sonics. "The fear factor game." Held to nine points in the second half. Scored only 23 points. One of his worst performances. And although the Sonics won the game, their players on the bench were pulling for Jordan to make shots because they were afraid he'd score 50 on them the next game.
4. (tie) Nov. 21, 1986, versus the New York Knicks. Scored the Bulls' last 18 points, including a jumper at the buzzer to win the game.
May 26, 1997. Game 4 of Eastern Conference finals versus the Miami Heat. Went 1-for-22 with nine points going into the fourth quarter, having missed his first 15 shots. Scored 20 in fourth. Almost won the game.
3. Nov. 16, 1988, versus Charles Barkley and the Sixers. Scored 52 and missed only five shots, while Barkley had 42 points and 16 boards. One of the best one-on-one battles of Jordan's career. This game cemented their friendship and respect for each other.
2. May 7, 1989. Game 5 of the first round of the playoffs versus Cleveland Cavaliers. "The shot."
1. June 11, 1997. Game 5 of the NBA Finals versus the Utah Jazz. "The flu game." A 103-degree fever. Vomiting. Couldn't walk off the court without help. Scored 38 points. The most dramatic performance of our time.
(Scoop Jackson is a columnist for ESPN.com. ©2009 ESPN Internet Ventures)
Jordan loved to play baseball when he was a child, and also played some basketball and football. His love for basketball began when his older brother, Larry, continuously beat him in one-on-one pickup games. As with any challenge Jordan faces, this determined Michael to become a better player.
Jordan played basketball for Laney High School in Wilmington, North Carolina. Ironically, Jordan was cut from the varsity team as a sophomore. Instead of giving up after failing to make the team, Jordan used it to spur himself to greater achievements, practicing hour after hour on the court. "Whenever I was working out and got tired and figured I ought to stop, I'd close my eyes and see that list in the locker room without my name on it," Jordan said, "and that usually got me going again." He eventually made the team and led it to the state championship.
Jordan accepted a basketball scholarship from the University of North Carolina. As a freshman, Jordan's ever-growing popularity began when he scored the game-winning basket in the 1982 NCAA championship game against the Georgetown Hoyas. Jordan was selected college player of the year in the 1983-84 season, and led the US Men's Basketball Team to an Olympic Gold Medal in the 1984 Summer Olympics under coach Bobby Knight.
Jordan left college and entered the NBA in 1984, he was selected third in the draft (First pick: Houston--Hakeem Olajuwon; second pick: Portland--Sam Bowie) by the Chicago Bulls, a team that had won only 28 games the previous season. Ironically, Jordan played in his first game as a pro against Washington on Oct. 26, 1984. Jordan became an immediate impact in the league and proved that he belonged among the elite players. He finished his rookie season as one of the top scorers in the league, averaging 28.2 points per game, was named Rookie of the Year, and also made the All-Star team. Jordan led the Bulls into the playoffs in every season, but didn't make the NBA Finals until 1991, where he led the Bulls to their first of three consecutive NBA Championships (1991, 1992, and 1993).
(Michael Jordan's biography from 23jordan.com, A Michael Jordan tribute)



Michael Jordan looks over his rookie contract
with then-Bulls general manager Rod Thorn
the man who drafted him No. 3 overall.
Chicago Bulls Michael Jordan Rod Thorn
(UPI photo by Ray Foli / September 12, 1984)
From chicagotribune.com
Michael Jordan, Dean Smith, Sam Perkins, Matt Doherty
North Carolina
(AP photo by Robert Willett / October 14, 1982)
From chicagotribune.com
MJ UNC
By by TommyDekker at © 2009 photobucket inc
By bereal07 at © 2009 photobucket inc
Michael Jordan, the greatest basketball player ever, played his final game of his spectacular NBA career April 16th in Philadelphia. This time his final shot ended with a free throw, not a championship like his second retirement in 1998. Everyone paid tribute and respect to the man that has transformed the NBA to what it is today. Jordan was given a three minute standing ovation before they moved on to the Sixers introduction. "Basketball has been my life," Jordan said. "No way you would ever have come in contact with me without the game of basketball. No way would I have been in contact with a lot of other people without the game of basketball. It gave me an outlet. It gave me a chance to experience life all over the world, not just here in the States. It taught me a lot of things about life in terms of respect, hard work, determination, achievement, setting goals, a lot of basic things in life." Jordan said, "I've used the game as much as the game has used me, as a method of teaching the game and passing on the correct way to play the game. It obviously gave me a lot of opportunities in terms of materialistic things as well as being able to touch people's lives. We've been a great relationship. It's been like my best friend, but sometimes you have to grow up and move away from your best friend. It's always going to be there in my mind and nothing is going to erase what I have attained just by having basketball as a friend."
(Remembering Michael Jordan's Final NBA Game from 23jordan.com, A Michael Jordan tribute)



By mkai0808 at © 2009 photobucket inc
By lilrossgangsta3 at © 2009 photobucket inc